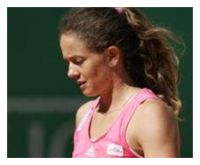 Serena Falls to Schnyder in Rome Thriller; Jankovic Rolls
ROME, Italy - After having a somewhat disappointing start to her year, batting an even 9-9 in her first nine tournaments, she picked her game up last week in Berlin, reaching the quarterfinals on the strength of three wins, including against Swiss compatriot Martina Hingis. This week she has gone one step further, however, and has taken out another of the greats to get there; Patty Schnyder won a quarterfinal thriller over Serena Williams on Friday to reach the semifinals of the Internazionali BNL d'Italia.

Schnyder, the No.14 seed at the Tier I event, came out on fire, winning the opening set easily in just 29 minutes, 6-3, and racing out to a 2-0 lead in the second. But the No.8-seeded Williams came back in a hurry, reeling off six straight games, none of which even went to deuce, to grab that second set from underneath her, 6-2.

"I completely lost it," Schnyder commented on the second set turnaround. "It's something that you can't really explain because as a player like me with so many years on the Tour, you don't want it to happen... but it still happens to everyone."

"I was playing a little better and she was playing a bit worse at that point," said Williams. "Naturally I thought I was going to go on and win, but comfortably or not, I didn't think about that. I just thought about winning points."

The 59-minute third set was a serving display, as both players held serve until the all-important tie-break. Schnyder built a 5-2 lead that was quickly cut down by the resilient Williams, but the comeback didn't last long, as the crafty Swiss clinched the one-hour, 57-minute match with two aggressive points, 63 26 76(5).

"I really felt a lot of pressure because she was out there fighting; not just going for the shots but she really wanted to win," Schnyder said. "I think we played at a really high level in that third set. We were both serving well and not missing easy shots. They were difficult conditions but somehow I managed to handle them."

"I just didn't make the shots I was supposed to make," Williams stated. "I made too many unforced errors today, probably about 50, which is considerably good to get to 7-6 in the third. I was very inconsistent and I just didn't play well today."

But the American, who won two rounds to reach the quarters, still holds a positive outlook going into Roland Garros.

"It was a nice couple rounds," she said. "It's good to get here on the red clay and get some good matches and lots of long points under your belt. Not winning today is going to end up working well; I get to do more work now to be even more fit."

This was Schnyder's second win in eight career match-ups against Williams. Her only previous win came in their only other clay encounter, at Charleston in 2002.

"Some days you can do it then others you lose, especially with such a champion like Serena," Schnyder added. "I'm just extremely happy that I could do it again because she's just the champion to beat this year."

And this being her second turnaround week after a season that has seen her drop out of the Top 10 and nearly the Top 20, Schnyder's confidence is revived.

"I'm really happy after such a slow start to the year; sometimes, you need a little breakthrough and definitely last week I played good matches. But this is for sure a breakthrough for me. I just don't want to let my level of play or confidence drop again. I just want to keep it up and see what's going to happen this year."

Awaiting Schnyder in the semifinals will be another player who is on fire this year, No.3 seed Jelena Jankovic, who crushed No.10 seed Elena Dementieva, 62 61.

"She is playing with so much confidence," added Schnyder on her next opponent. "Her ranking just goes up and up - and she's still motivated to go higher and play every week. I'll definitely need to play my best to win."

Battling in the other semi are Svetlana Kuznetsova and Daniela Hantuchova. On Friday, No.2 seed Kuznetsova dismissed No.6-seeded Dinara Safina, 61 63, while No.9 seed Hantuchova got past non-seed Anabel Medina Garrigues, 76(8) 75.

"I've played Daniela twice this year; I beat her once and lost to her once," stated Kuznetsova. "It's going to be a tough match. But I don't want to think about her. I want to concentrate on myself. If I play well I have chances against everybody."

Hantuchova hopes to recover from the marathon two-hour, 25-minute victory on Friday night. She had all sorts of chances to close the first set out more quickly, having dominated the early goings en route to a 4-1 lead then holding her first set points at 6-5 and 7-6 in the tie-break. She saved a set point against her when she trailed 8-7 in the tie-break, but reeled off three straight points. She rallied back from a 3-1 deficit in the second set to go up 5-3, and had three match points in that game, but again allowed the Spaniard back in, winning four games later.

The three remaining doubles quarterfinals were also played on Friday, the most notable one coming earlier in the day, as No.2 seeds and reigning Australian Open champions Cara Black and Liezel Huber downed unseeded Italians Karin Knapp and Romina Oprandi, 57 62 104. Both doubles semis will take the court Saturday in the Italian capital. (WTA)
Schnyder sends Serena crashing out of Italian Open
ROME: American eighth seed Serena Williams crashed out of the Italian Open yesterday after losing to Patty Schnyder in the quarter-finals.
Swiss 14th seed Schnyder, a runner-up here two years ago, beat the eight-time Grand Slam winner 6-3, 2-6, 7-6 (7/5) to set up a semi-final meeting with Serbian Jelena Jankovic.
Jankovic, seeded three, defeated Russian 10th seed Elena Dementieva 6-2, 6-1.
In the day's third quarter-final, Russian second seed Svetlana Kuznetsova beat compatriot and sixth seed Dinara Safina 6-1, 6-3.
Kuznetsova, the 2004 US Open winner, will play either Slovakian 10th seed Daniela Hantuchova or unseeded Spaniard Anabel Medina Garrigues in the last four.
After Schnyder had comfortably taken the first set and gone 2-0 up against Williams in the second, she suffered a massive loss of concentration, allowing the American to take the next seven games. Williams, who won the Australian Open earlier this year as an unseeded player, appeared to be the favourite going into the decider, but Schnyder regained her composure to squeeze past Williams in the tie-break.
Williams, whose season has been plagued by groin injuries, admitted she felt that she was going to win the match after taking the second set.
"I was playing a little better and she was playing a little worse at that point," said Williams, currently ranked 11th in the world. "Naturally I thought I was going to go on and win the match. But I was very inconsistent and overall I just didn't play well today."
Williams insisted her fitness was good and that she would be close to her physical peak by the time the French Open starts on May 27.
Asked if she was back to 100 per cent fitness, she replied: "Yeah, I'm getting there. I'm really confident about Roland Garros. I feel like I'll really enjoy myself there and obviously I have nothing to lose."
Schnyder admitted Williams was difficult to shake off.
"She's such a champion and she pushed me all the way," said the 28-year-old who had lost six of her previous seven encounters with the former world number one.
"But I always believed I could win. My confidence has been high this week and I have been playing well." (AFP)
Results (x denotes seeding): Quarter-finals: Svetlana Kuznetsova (RUS x2) bt Dinara Safina (RUS x6) 6-1, 6-3; Patty Schnyder (SUI x14) bt Serena Williams (USA x8) 6-3, 2-6, 7-6 (7/5); Jelena Jankovic (SRB x3) bt Elena Dementieva (RUS x10) 6-2, 6-1.(AFP)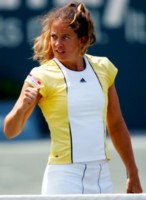 Schnyder shatters double dream
Serena Williams' plan to do the Italian and French Open double for a second time was scuppered yesterday by Patty Schnyder, but the American claimed this defeat would make her even harder to beat at Roland Garros.

Williams gave herself marks of between one and two out of 10 for her performance in the Foro Italico, having managed to take the match into a final set tie-break which the Swiss took for a 6-3, 2-6, 7-6 victory.

She said: "I probably made about 50 errors, which made it a considerable achievement to get to 7-6 in the third.

"Not winning today is actually going to work better for me, because it means I am going to train more and get fitter. I am going to do well [in Paris] and once I start believing that, it will happen."

Williams, though, is a born winner who would surely rather be walking out again for today's semi-final against Jelena Jankovic than spending time on the practice courts trying to iron out the technical problems that plagued her against Schnyder.

Her determination to repeat her 2002 triumph here has been clear from her opening match, in which she struggled against Michaella Krajicek. She thought she would beat Schnyder after winning seven games in a row, from a set and a break down, to draw level with an opponent who admitted to "losing it" at that stage of their 1 hr 56min encounter.

Schnyder sensed Williams was at full throttle. "She really wanted to win," the world No 17 said. "She was out there fighting hard and really going for her shots. It put me under a lot of pressure, because you know that a tight match like that always comes down to two or three crucial points."

Schnyder, 28, who still dreams of reaching a grand slam final after more than a decade of trying, put yesterday among her career highlights. "If you can beat Serena, especially after the kind of year she is having, you have to be really happy.

"This win is definitely a breakthrough for me, and I don't want to let it go now. I just want to keep up my level of form and confidence and see what's going to happen this year."

Schnyder will need to remain at her best today, judging by the way the third-seeded Jankovic dealt with the experienced Russian, Elena Dementieva, in the opening quarter-final.

Jankovic, one of two Serbs in the world's top 10, was modest after her emphatic

6-2, 6-1 passage, reflecting on the closeness of most of the games. But her performance rates among the best of the week and makes her favourite to reach her fourth final of what is becoming an outstanding year.

Second seed Svetlana Kuznetsova swept aside fellow Russian Dinara Safina 6-1, 6-3 to earn a semi-final against Daniela Hantuchova or Anabel Medina Garrigues.
Hingis Falls to Schnyder in Berlin
BERLIN, Germany - Rain continued to wreak havoc on the Qatar Telecom German Open on Thursday, but nevertheless six of the eight round of 16 matches scheduled for the day were completed. Among those reaching the quarterfinals of the $1,340,000, Tier I event was Patty Schnyder, who bounced Swiss countrywoman Martina Hingis.

Schnyder, who had suffered opening round exits at her three previous tournaments in Miami, Amelia Island and Charleston, had been working her way back into match form in her early rounds this week with straight set wins over Roberta Vinci and Virginia Ruano Pascual; and she displayed more classic form during her 64 60 win over Hingis, breaking away after going down 4-3 in the first set to win nine straight games. It was her first win over Hingis in the pair's three completed matches.

Hingis was not at her best, however, still struggling with an injured hip flexor.

"I haven't felt my best physically for a couple of weeks now, and I need to work on that; the cold heavy weather and the stopping and starting didn't help my hip or my leg either," Hingis said. "But she handled the conditions much better than I did and just played much better. She played smart and deserved to win.

"I wanted to do the right thing and finish the match out of respect for Patty."

"In the first set I hit a lot of angles, and my tactics worked well; we had lots of long rallies and close games," Schnyder said. "I think she was playing with a bit of pain and that definitely showed in the second set."

The victory over the world No.7 represents a continuation of a turnaround for an encouraged Schnyder; she is now into her third quarterfinal of the season, after back-to-back runs to the same round at Dubai and Doha in February, and she picks up her first Top 10 win since last August, going 0-5 against the elite since.

Next up for the No.15-seeded Schnyder will be No.12 seed Ana Ivanovic, who had a 63 50 retirement victory over Alona Bondarenko earlier Thursday, after the Ukrainian suffered a left ankle sprain. She is 4-1 against the Serbian, though that defeat came in their only encounter since 2005, at Warsaw just over a year ago.

"It's going to be a tough match," the Swiss said. "Her game suits the conditions much better - she can use her power. For me it's tougher to hit topspin."

Also grabbing berths in the final eight before rain and darkness interfered were Russians Svetlana Kuznetsova, Nadia Petrova and Dinara Safina and Serbian Jelena Jankovic. No.3 seed Kuznetsova defeated Martina Müller, 63 62; No.7 seed Petrova beat No.10 seed Elena Dementieva, 63 63; No.8 seed Safina fought back from a set down to take down Lucie Safarova, 36 63 62; and No.5 seed Jankovic advanced with a 61 67(3) 23 win when Peng Shuai sprained her left ankle.

No.2 seed Amélie Mauresmo's match against Julia Vakulenko was postponed with the Frenchwoman leading 62 11 due to darkness; top seed Justine Henin's match with Maria Elena Camerin never took the court. Both matches are up on Friday.

Four of the eight round of 16 doubles matches were also postponed to Friday. The teams making it through were No.1 seeds Lisa Raymond and Samantha Stosur and the unseeded pairings of Laura Granville and Jelena Kostanic Tosic, Janette Husarova and Meghann Shaughnessy, and Tathiana Garbin and Roberta Vinci.

The remaining round of 16 matches in both singles and doubles, as well as all of the quarterfinals in both disciplines, take the court Friday in the German capital. (WTA)