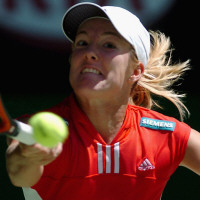 Henin sends warning to rivals
For the second straight year Justine Henin packed her things and headed out of Eastbourne with an extra piece of baggage. However, the weight of the International Women's Open trophy is nothing compared to that which the world No 1 was carrying upon her shoulders at this time 12 months ago.
Stern stuff: Justine Henin on her
way to victory at Eastbourne
Yesterday's thrilling victory over Amelie Mauresmo in a third set tie-break gave Henin not only the chance to sound a warning to her forthcoming opponents at Wimbledon, but also to reveal the extent of the new-found sense of contentment that appears to be producing the best form of her career.

Mauresmo was the victor when the pair met in the final at the All England Club last year, and the Frenchwoman served for the match on a blustery Devonshire Park yesterday afternoon, before Henin edged the test of nerve 7-5, 6-7, 7-6.

Then the Belgian, who split from husband Pierre-Yves Hardenne earlier this year, told how the divorce has proved to be a liberating experience. "It is never easy to deal with this kind of situation but it is for the best," she said. "For the first time in my life I am really very happy.

"Even in tough times you can take something positive from any experience and it is time for me to go forward and look into the future. At the time I was feeling bad and tennis was second in my life but when I decided to come back onto the court it was because I was ready. Since then I have had a lot of good things in my life."




The most notable aspect of the women's draw for the 121st Championships is the throwing together of world number one and top seed Justine Henin into the same section as two-time Wimbledon champion Serena Williams, who is seeded seventh. The two met at the same stage of the French Open earlier this month, Henin winning in straight sets for the loss of seven games before going on to take the Roland Garros title for the fourth time in five years.

However, the 25-year-old Belgian has got no closer to the Wimbledon title than two appearances as runner-up, in 2001 when she lost to Serena's sister, Venus, and last year when she was beaten by Amelie Mauresmo.

Henin's start should be an undemanding one, against an Argentinian qualifier Jorgelina Cravero, with a possible fourth round confrontation with the 15th seed Patty Schnyder of Switzerland.

In theory there could be an all-Williams final, as there was in both 2002 and 2003, since Venus is in the bottom half of the draw as 23rd seed, facing the possibility of a fourth round clash with the second seed and 2004 champion, Maria Sharapova.

Mauresmo's hopes of defending her title have not been improved by illness and injury blighting much of this season, and she is seeded no higher than fourth as a result, also in the lower section of the draw. Mauresmo begins against the American Jamea Jackson but could need to get past some formidable eastern European opposition in the Czech Nicole Vaidisova (seeded 14th), and either the Russian Nadia Petrova (11) or the French Open finalist Ana Ivanovic of Serbia (6) to progress to the semi-final stages.

The other top ten Serb, Jelena Jankovic, seeded third and a firm betting choice of many to take the title, starts against the British number one and wild card, Anne Keothavong. There is the intriguing possibility of a quarter-final for Jankovic against the resurgent Martina Hingis, a Wimbledon champion ten years ago.

Hingis is one of five former champions in the 2007 field, the others being the Williams sisters, Serena and Venus, Sharapova and Mauresmo. With the possible exception of Venus, who has struggled to find form after a wrist injury, any of the others must be regarded as a strong contender. Having won the Australian Open without anything much in the way of preparation, Serena is another heavy betting favourite.

But everything, it would seem, hinges on that prospective quarter-final against Henin in a line-up which features 17 Russian women, compared with 11 from the United States, the nation which dominated at Wimbledon until so recently.
Justine Henin ruthless
The Belgian imposed herself with the severity of her hitting that seemed to make Ana Ivanovic question her right to be on the same court as the world number one, writes Jon Henderson.
Justine Henin is just as lethal with one barrel as she was with two. The former Henin-Hardenne, who has parted company with her husband and her hyphen in the past six months, had too much withering firepower for the 19-year-old Serbian Ana Ivanovic as she romped to her fourth French Open title in five years.

Her 21st successive win at Roland Garros made her only the second woman in the Open era to win the French title three years in a row, her sequence of title successes since 2003 having been interrupted only in 2004 when she was suffering from a debilitating illness.

Henin, 25, has long had one of the most admired games in tennis, with a one-handed backhand that makes traditionalists purr and a raking forehand that she herself feels is even more effective. Combine these assets with a lust for competition that is as fierce as Paris Hilton's is for publicity, plus the experience gained from nine previous Grand Slam finals, and Ivanovic's chances of upsetting the Belgian were slender from the outset.

In the event, her resistance lasted for only 65 minutes before Henin ran out a 6-1, 6-2 winner to boost her career earnings of GBP 7.2 million by a further GBP 680,000. Henin has promised us a softer image since reflecting on life after the break-up of her marriage to Pierre-Yves Hardenne, who had been her partner for four years and her husband for four more after that. "I'm trying to be more cool," she said. "I think I can be focused as I enjoy the moment."

But reverting to type is easily done and it was the old, hard-nosed combatant who snuffed out Ivanovic's hopes of glory on a steamily warm afternoon. Ivanovic started perkily enough. She broke Henin in the opening game of the match when the Belgian seemed the more nervous, a double fault handing Ivanovic her early lead. But it would be 40 more minutes before Ivanovic won another game as Henin imposed herself with the severity of her hitting that seemed to make the Serbian question her right to be on the same court as the world number one.

By the end, Ivanovic had effectively run up the white flag. Her lack of stomach for the fight was reflected in her meekly accepting the overrule that gave Henin an ace and handed the title-holder her first match point. It was the only one Henin needed as she ran in to dispatch a forehand volley beyond Ivanovic's reach before hurling her racket aside and blowing kisses to her family in the stand.

Since splitting from her husband, Henin has become reconciled with her family, having not been on speaking terms with them for several years because of squabbles over money. "It's a different feeling now I'm back with my family," she said. "At last I have found happiness again on court." Her two older brothers, David and Thomas, and her younger sister, Sarah, rose to applaud her and speaking from the victory podium, she made a point of saying "Merci, Papa" — a thank you to her father Jose, with whom she made up with a `let's forget the past' telephone call last month. She then turned her eyes skyward and said: "I thank who is up there for protecting me." In other words, a thank you also to her mother, who died when she was 14.

The contrast between the two finalists as they posed for photographers before the match could hardly have been more marked. Henin, at 5ft 5in, just about managed to crack a smile while 6ft 1in Ivanovic beamed at the wonder of it all, being in her first Grand Slam final in the art-deco splendour of Court Philippe-Chatrier. This was definitely a business assignment for Henin while for Ivanovic, the first player to represent Serbia in a Grand Slam final (Monica Seles, a Serbian, represented Yugoslavia), it was a dream come true.

Ivanovic's nervousness first became apparent in the second game, after she had opened 40-love lead and had a total of four points for a 2-0 lead. On one of these she struck a serve that almost landed in a line judge's lap. If Henin needed any encouragement, she could hardly have asked for it to be transmitted to her more openly.

From 1-0 down, Henin won eight games on the trot to wrap up the first set and go 2-0 in front in the second. Ivanovic then held serve to love, but it was as if Henin felt momentarily merciful towards a dispirited foe. Here, ever so briefly, was the softer side. Within moments, Henin had gathered herself to continue her relentless drive to the title, which she secured without dropping a set in seven matches — and only once conceding more than four games in a set.

Her final defeat notwithstanding, Ivanovic's performance was the most significant achievement of the women's singles. Without the intervention of the number-seven seed, it would have been a championship not unlike most of the others of recent seasons, with the usual suspects trying to stop Henin.

Ivanovic's quarterfinal win over Svetlana Kuznetsova, the runner-up here last year, and her semifinal thumping of Maria Sharapova, who salvaged just three games from a one-sided contest, signalled the arrival of a player who until this event had failed to convert her promise into the hard currency of a significant Grand Slam showing. The quarterfinal she achieved here two years ago was offset by early losses in eight other Grand Slams that questioned her competitive temperament.

As they would have expected, Kuznetsova and Sharapova felt the force of Ivanovic's thumping groundstrokes. What she added to her repertoire in these championships — until running into the sublime Henin — was the belief and consistency to go beyond simply giving a good account of herself in a gutsy defeat.
Queen of Clay: Henin wins fourth French Open title
Henin extends win streak at French Open
| | |
| --- | --- |
| | |
| | Justine Henin, of Belgium, slams a forehand to Serena Williams, of the United States, during their quarterfinal match of the French Open tennis tournament, at the Roland Garros stadium, in Paris, Tuesday, June 5, 2007. (AP Photo/Lionel Cironneau) |
PARIS -- Serena Williams failed to end Justine Henin's record run at the French Open. Keeping Williams on the move with versatile shotmaking, two-time defending champion Henin advanced to the semifinals by winning 6-4, 6-3 Tuesday.

Henin extended her Open era record winning streak at Roland Garros to 31 consecutive sets. The Belgian is two rounds from becoming the first woman to win three consecutive French Open titles since Monica Seles in 1990-92.

Williams, who had won her past 11 Grand Slam matches, was the lone remaining American in men's or women's singles. She was puzzled by her poor play and reluctant to credit Henin.

"All she had to do was show up," Williams said. "I just pretty much stood back and let her take advantage of me."

Responded Henin: "It's her opinion. I thought I just did a good job. And I just see it from my point of view, and I did everything I could to control the match."

Top-ranked Roger Federer set an Open era record by extending his winning streak in Grand Slam matches to 36 consecutive sets - then lost the next set. He regrouped and hit a series of brilliant shots down the stretch to beat No. 9-seeded Tommy Robredo in the quarterfinals, 7-5, 1-6, 6-1, 6-2.

"I was struggling, it's true," Federer said. "I was like, `OK, this could start becoming really bad here.' Thank God I played a great third and fourth set."

In the final two sets, he had 26 winners to five for Robredo.

Federer, who has reached the semifinals in a record 12 consecutive major events, is seeking the only Grand Slam title he has yet to win. He'll next play No. 4-seeded Nikolay Davydenko, who beat No. 19 Guillermo Canas 7-5, 6-4, 6-4.

Federer is 8-0 against Davydenko, including a semifinal win at the U.S. Open last year.

Henin's opponent Thursday will be No. 4-seeded Jelena Jankovic, who beat No. 6 Nicole Vaidisova 6-3, 7-5.

The other women's semifinal will be between No. 2 Maria Sharapova and No. 7 Ana Ivanovic. Sharapova beat No. 9 Anna Chakvetadze 6-3, 6-4, and Ivanovic defeated 2006 runner-up Svetlana Kuznetsova 6-0, 3-6, 6-1.

For Sharapova, Ivanovic and Jankovic, it's their best showing at the French Open. The 19-year-old Ivanovic is a first-time Grand Slam semifinalist.

"I now feel old on the circuit," said the 25-year-old Henin. "Newcomers are coming up. Women's tennis keeps getting better."

Williams revived her career by winning the Australian Open in January for her eighth Grand Slam title, and she was considered perhaps Henin's most formidable hurdle this week. The meeting was their first at Roland Garros since 2003, when a semifinal victory by Henin included boos for Williams and left a bitter aftertaste on both sides.

The lone jeers this time came when a frustrated Williams slammed her racket to the clay when she lost serve in the opening game of the second set. The boos quickly subsided, and while the crowd favored the French-speaking Henin, they applauded Williams when she left the court after the match.

There was no evident acrimony between the players, either. While Williams offered only a perfunctory handshake following their match four years ago, this time when she dumped a forehand in the net on match point, she smiled as she and Henin engaged in a genial exchange at the net.

"She just wished me the best, and to go to the end of the tournament," Henin said. "It has been a lot of respect between the two of us (lately), and it has been a very correct match today. So I think we were both happy about that."

Unlike other players, Henin was able to draw on a wide variety of shots to keep Williams off balance. Henin is best known for her picturesque backhand, but she did considerable damage with her forehand, hitting deep to control rallies against Williams.

"She didn't look very aggressive," Henin said. "When I could make her run a little bit, it was easier for me."

The only break in the opening set came in the first game. Williams popped up a volley on break point, and Henin sprinted across the court at an angle to whack a winner.

The Belgian held her first six service games, facing only one break point and shouting "Allez!" when she won important points.

When Williams dumped a drop shot into the net to again lose serve and fall behind 1-0 in the second set, she slammed her racket.

"I was just making all the errors and just playing like a maniac," Williams said.

She won the next six points, breaking back with the help of two double faults by Henin to take a 2-1 lead, but it didn't last long.

Williams lost her next service game, largely because of three backhand errors, and Henin calmly won eight of the final nine points to close out the victory.

"I managed to hold my serve in the important moments," Henin said. "I managed to impose my game."

She improved to 14-1 in Grand Slam quarterfinals and faces a potentially tough semifinal against Jankovic, who is 44-10 this year and 23-3 on clay.

But two of those clay-court losses came against Henin, who is 5-0 against Jankovic.

"I will try to find a way somehow to win," Jankovic said. "I think I can do it ... because I feel that I'm really physically very fit, and I feel like I move so well on the clay."

Sharapova had lost her previous two quarterfinal matches at Roland Garros. Nursing a sore shoulder and playing on her worst surface, the two-time Grand Slam champion nonetheless managed a breakthrough against fellow Russian Chakvetadze.

"I wouldn't say I'm surprised," Sharapova said. "I didn't come off the court and go, `Wow, I'm in the semifinals.' That wasn't really the feeling that I had.

"In any tournament that I play, whether it's on clay or mud or whatever it is, I know what I'm capable of, and I believe in myself."
Brilliant Henin sails past Serena
Justine Henin was in superb form as she saw off a subdued Serena Williams 6-4 6-3 to reach the French Open last four.

The defending champion broke in the first game and Williams could not find a way back into the match.

The crowd sensed a Williams comeback when the American immediately broke back having dropped serve at the start of the second set.

But Henin's aggressive tactics kept forcing mistakes as she clinched her first win over Williams since 2003.

On that occasion, Henin beat Williams in a controversial semi-final at Roland Garros which ended with the American leaving the court in tears.

There was no such drama on Tuesday as Henin, seeking a French Open title hat-trick, completed a clinical win in one hour 18 minutes.

The pair shared a warm handshake at the net, and Henin said: "She wished me the best, and to go to the end of the tournament.

"There is a lot of respect between the two of us, and it was a very correct match today. So I think we were both happy about that."

A frustrated Williams said she had all but handed Henin victory.

"All she had to do was show up. I don't think I've ever played so bad in the quarters of a grand slam," said Williams.

"I'm always saying I want to peak at the right time but I didn't have any peaks today. I've never played so hideous and horrendous.

"I just stood back and let her take advantage of me. I was just making all the errors and playing like a maniac."
Henin and Serena shine in French Open gloom
PARIS - Triple champion Justine Henin and Serena Williams, the 2002 winner, reached the French Open second round as Roland Garros shivered in rain and biting cold.

In an opening day program decimated by a six-hour rain delay, Belgian top seed Henin, bidding for a third successive title here and fourth in all, saw off Russian 20-year-old Elena Vesnina 6-4 6-3.

Henin wrapped up victory in 89 minutes and will face Austria's Tamira Paszek for a place in the third round.

"It was a hard, tough day and the weather will be like this for the rest of the week," said Henin playing her first Grand Slam event since the break-up of her marriage.

"But winning today is all that counts. It was tough but I controlled the match at the end."

Williams, reinvigorated by her surprise Australian Open triumph in January, which gave the American her eighth career Grand Slam title, had a much tougher time in her first round clash.

The eighth seed won 12 of the last 13 games as she was forced to battle back from a set down to beat Bulgaria's Tsvetana Pironkova 5-7 6-1 6-1 and book a match-up with either Virginie Razzano of France or Milagros Sequera of Venezuela.

"The rain slowed down the balls and I wasn't sliding as well as I can in the first set," said Williams.

"But I'm always fighting and if was going to lose, I was going to go down kicking and screaming. I also knew that if she won, there was a 99.9-percent chance that she wouldn't win the next round.

"That gave me more fight."

Williams struggled in the opening set on the Suzanne Lenglen court in cold, damp conditions.

She fought off set points in the seventh and ninth games and was more than happy to walk off court for the mararthon rain suspension.

However, Pironkova, playing in only her third match at Roland Garros, kept her nerve when the players returned to serve out a love game to take the set 7-5.

The slender 19-year-old Bulgarian then broke to lead 1-0 in the second set before Williams turned up the heat to clinch nine games in a row on her way to grabbing the second set and nipping 3-0 ahead in the decider.

Twenty-four matches had been scheduled for the opening day of the 2007 championship, but with torrential rain falling for most of Sunday, organisers were forced to cancel 17.

Former world number one Marat Safin of Russia eased past Spanish qualifier Fernando Vicente 6-1 6-3 6-1 in just 84 minutes to ensure his second-round spot before the rain arrived
Top-seeded Henin could face Serena in French quarters

Paris, France (Sports Network) - The women's seeds and draw were revealed Friday for the French Open and world No. 1 and two-time defending champion Justine Henin has a tough road for a three-peat.

The top-seeded Henin, who's won three of the last four French Opens, will open defense of her titles against Russian Elena Vesnina and could face her eighth- seeded arch-rival Serena Williams in the quarterfinals. Williams will open up against Bulgarian Tsvetana Pironkova.

The eight-time major titlist Serena captured the Australian Open in January by beating U.S. Open champion Maria Sharapova in the final, while the five-time Grand Slam champion Henin skipped the '07 Aussie major due to personal reasons after having reached all four Slam finals in 2006, going 1-3.

The bottom half of the draw is spearheaded by a second-seeded Sharapova, who will open against France's Emilie Loit and could meet fifth-seeded Wimbledon titlist Amelie Mauresmo of France in the quarters. The former top-ranked Mauresmo's first-round opponent will be American Laura Granville.

Other potential quarterfinal matches could pit third-seeded Russian Svetlana Kuznetsova against seventh-seeded Serbian Ana Ivanovic and fourth-seeded Serb Jelena Jankovic versus sixth-seeded Czech Nicole Vaidisova. The dangerous Jankovic has reached at least the quarterfinals in 11 of her 14 tournaments so far this season. She'll open against French wild card Stephanie Foretz, while the 2006 French Open runner-up Kuznetsova will meet her fellow Russian Ekaterina Bychkova in the round of 128.

Serena's older sister Venus is seeded 26th at this French fortnight. Her opening match will come against France's Alize Cornet. The former world No. 1 and five-time Grand Slam champion could meet her younger sibling Serena in the quarters.

If the seeds stay true to form, a blockbuster final would pit Henin against the two-time major titlist Sharapova, while the semis would have Henin meeting Jankovic and Sharapova taking on Kuznetsova.

Only three former champions are in the field -- Henin, Serena and Anastasia Myskina. Serena beat Venus in the 2002 finale here, while Myskina was the 2004 champ.

The '07 French Open will get underway Sunday at Roland Garros. Henin will try to become the first women's three-peat winner since Monica Seles turned the trick from 1990-92.
Henin upbeat about chances
WORLD No.1 Justine Henin said today (AEST) she was confident she would win her fourth French Open title in five years.

The 24-year-old Belgian has won three tournaments this campaign and revealed she was feeling even better than she had done recently.

"I feel very strong, stronger than I did six months ago,'' said Henin, who has won the WTA tournaments in Dubai, Doha and Warsaw this season.

Henin, who turns 25 on June 1, recalled how her love affair with Roland Garros started when she won the junior tournament in 1997.

"I was 15,'' she said.

"That was already a dream come true for me. If they were to have said to me afterwards that I would win the senior title three times, I wouldn't have believed them.

"Everyone knows the warm feelings I have for this tournament."

Henin, who unlike her recently retired compatriot Kim Clijsters swears she will continue at the highest level for four to five years, was in Limelette to lay the foundations for tennis academy 'The Sixth Sense' for a group of male tennis players, who will be known as the 'Just in Team'.

"I needed to create something with Carlos (Rodriguez her coach) that would not mean I lose touch with the sport after I retire as a player,'' said Henin, who went through an emotional break-up of her marriage earlier this year.

"I want to share our experience and to give the opportunity to young players to develop their game just like I had the opportunity to do."
Henin dogged by bad weather
World No 1 Justine Henin finally buckled yesterday under the strain of being the biggest sufferer from bad weather which has spoiled the Qatar Telecom German Open.
Struggling: Berlin's bad weather ruined Justine Henin's day
The diminutive Belgian refused, however, to put too much significance on a rare defeat by Russia's Svetlana Kuznetsova, whom she beat in last year's French Open final.

Former US Open champion Kuznetsova was elated after recording only her second victory in 16 attempts over Henin. However, she also then ran out of steam in a gruelling final staged less than three hours later, allowing Serbian teenager Ana Ivanovic the chance to celebrate moving into the world's top 10 in the early stages of what promises to be an outstanding career.

Henin, who arrived late in Berlin because her final in Warsaw a week earlier was rain-delayed, was frustrated by more unfinished business on three successive nights. She came back defiantly from 0-4 in the final set of her quarter-final against Jelena Jankovic but was unable to respond against the more experienced Kuznetsova.

"This was one of the toughest weeks I have ever had," said Henin after her 6-4, 5-7, 6-4 elimination. "Playing two matches on the same day and matches not finishing two nights in a row was tough for me."

Henin warned, however, that she will still be the woman to beat at Roland Garros, where she has already triumphed three times. "I have had enough matches [on clay]," she added. "I just have to rest now and get ready for two tough weeks."

The stage seemed set for the third-seeded Kuznetsova to claim her first title of the year and ninth in all, but she was outlasted in a 2hr 15min final by the engaging Ivanovic, who claimed the £90,000 winner's cheque with a 4-6, 6-4, 7-6 victory.
Justine Henin: The Quiet Belgian
There is an intrigue to Justine Henin which is hard to explain. It is in her personality as much as her style of play. You don't just watch her play — you watch her with interest, curiosity, wondering what she will do next. She asks questions, and you don't know the answers. She needs support, from her coach, from the fans, but doesn't know how to ask for it. There's a vulnerability to the Belgian which is unusual in most professional athletes.




She speaks softly with a Belgian accent which tends to get stronger when she's talking about her past. She has not had it easy, and yet that resistance has forged her character. She was 12 years old when her mother died, and has since become estranged from her family (she no longer has any contact with her father and her relationship with her younger sister, Sarah, is strained at best). She married Pierre-Yves Hardenne in 2002, but the couple separated in January 2007, for reasons Henin does not which to share.


She is a private person, and that distance is actually part of her intrigue. People watch her on court because it is through her tennis that they get to know her. Her life experiences have made her stronger, without a doubt, and that willingness to succeed is shown on the court. She works incredibly hard for tournaments, and she gives it 100% every time. She is devoted to tennis, perhaps because it is all she has. "Tennis is my life," she said. "I love it. I live for it." Few will argue otherwise.


But what is it about Henin which separates her from the others? Maybe we should start with the obvious, her size. She's much smaller than the 'average' tennis player, with the Belgian standing at about 1m67. In theory that should put her in the same league as Martina Hingis, who uses skill before power. And Justine Henin is without a doubt a "pretty player", whose shot selection is often beyond the norms. Oh, and her back-hand "ain't bad either" — in fact, it's been described as "the most beautiful backhand in tennis". Her opponents might think of it as also being the most lethal.


Despite her size, Henin manages to generate power with her shots, and her service. In fact, her second serve is one of the fastest on the women's tour, if not the fastest. However, the power tends to lead to double faults. But Henin doesn't treat her second serve as a weakness — she hits it like she would her first serve.


Yet serve and style aside, the deepest intrigue Henin offers on court is her history with each tournament. She has a personal attachment with each tournament, an element of history, an intimate connection. But the main one is with Roland Garros. It is there at it all begun, when she saw the final between Steffi Graf and Monica Seles, it was that afternoon that Henin promised her mother "I'll play on center court and win it".



Years later, in 2003, Henin kept her promise.


Some consider Roland Garros as being "her" tournament because of the history she has with it. It is, in some ways, her only remaining link to her mother. She plays at Roland Garros for the memories, for 'the one' who is no longer there, for a promise she made long ago and still feels she can to keep. She may be "the queen of court", but it is more than her ability to play on clay which makes her a clear favorite for the tournament.


It is hard to see anyone really challenging her this year. Amélie Mauresmo may be playing in front of her home crowd, but in the case of the French woman this is hardly an advantage. Martina Hingis is desperate to find herself again, and may not find the cure she needs in time for the tournament. Newcomers Ana Ivanovic and Tatiana Golovin have both have some impressive results recently on clay (Berlin and Amelia Island respectively), but they both lack experience in Grand Slams.


Henin's main 'threat', actually, comes in the form of Serena Williams, but the American's health and motivation is questionable if nothing else. The last time the two players meet was in the final at Miami. If Justine Henin won the first set 6-0, Serena Williams would claim the other sets 7-5 6-3. But the glory that day went to the Belgian, who was playing during the tournament which brought back the memories she had so often tried to forget.


It was intriguing to watch that final, Williams with her brute force and Henin battling the memories with her "pretty player" status. It was personal for both of them — Williams wanting to prove her comeback was for real and Henin wanting to prove the memories didn't affect her. It was personal because of their stories, because it was another rivalry being reborn.


A rivalry which will continue, if Williams so chooses, at Roland Garros. A rivalry based on opposites, Williams with her desperation to win and Henin quietly fulfilling a promise from long ago. Miami was Williams' tournament, with her home crowd, but Roland Garros is Henin's tournament, with her memories, and a crowd which isn't hers but who choose to support her anyway.


It is difficult to imagine anyone taking the tournament away from Henin. She plays there because it is "hers", because she needs it maybe more than she should, or even realizes. She needs it to remember why she plays tennis in the first place, to not forget the old memories and to be able to create new ones. Roland Garros was her beginning of her tale.


The quiet Belgian may prove she hasn't finished writing her story.
Henin Defeats Jankovic at German Open

BERLIN - Top-seeded Justine Henin rallied from 4-0 down in the final set against Jelena Jankovic and reached the German Open semifinals with a 3-6, 6-4, 6-4 win on Saturday.

Henin, chasing her fourth title at the key French Open tuneup, completed the comeback with an overhead smash, then stepped on the court again a few hours later to face third-seeded Svetlana Kuznetsova in the semifinals.

Downpours stopped the match with the 2004 U.S. Open champion leading Henin 6-4, 5-7, 3-2.

They will finish their match Sunday, and the winner will face 12th-seeded Ana Ivanovic later in the final. The Serb teenager advanced when Julia Vakulenko quit with a right wrist injury while trailing 4-3 in the first set.

Henin played flawless tennis against the fifth-seeded Jankovic after she trailed 4-0 in the deciding set.

"She played unbelievably _ she didn't make a mistake until it was 4-4 or something," Jankovic said. "I'm very disappointed."

Henin's array of winners down the line, drop shots and pinpoint passing shorts forced a scream of frustration from Jankovic at one stage.

The match was stopped Friday because of darkness _ with Jankovic ahead 6-3, 4-4 _ then halted twice by rain.

Jankovic has improved to sixth in the rankings after two recent titles, but this was her fifth straight three-set loss to the world's top-ranked player.

Henin also charged back to win at the U.S. Open semifinals against Jankovic when trailing 5-3 in the second set.

"She is a champion. She is the only one I have trouble against _ I have beaten all the other top 10 players," said Jankovic, who also was eliminated last week in Warsaw by Henin.

The 19-year-old Ivanovic will play her second final.

"It's never nice to win this way," Ivanovic said. "I am just looking forward to the challenge of playing the final."

Vakulenko's right wrist also forced the Ukrainian out of the quarterfinals at Warsaw, where she beat Kim Clijsters in the Belgian's last match before retirement.

Vakulenko, taking painkillers, upset both third-ranked Amelie Mauresmo and No. 10 Dinara Safina on Friday.

A service of the Associated Press(AP)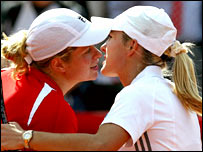 Henin struggling on another disrupted day
World number one Justine Henin was in danger of crashing out of the Berlin Open after losing the first set of her quarter final against Jelena Jankovic.

Jankovic, who lost to the Belgian in the semi finals of Warsaw last week, took the rain delayed first set 6-3 but Henin was hanging on in the second set at 4-4 when lack of light stopped play on the Steffi Graf Stadium.

Defending champion Nadia Petrova was beaten 7-6 6-4 by fellow Russian Svetlana Kuznetsova, seeded third, while in another quarter-final 12th-seeded Serbian teenager Ana Ivanovic battled to a 7-5 3-6 6-4 victory over 15th seed Patty Schnyder of Switzerland.

Unseeded Julia Vakulenko, who like Henin had an exhausting day having to play twice because of the backlog caused by rain, continued her dream run through the draw adding the scalp of Dinara Safina to that of Amelie Mauresmo who she beat earlier in the day.

Vakulenko beat Safina 6-3 5-7 6-3 in a gruelling match that lasted two hours 23 minutes and will play Ivanovic in the semi finals.

Henin had begun the day in sprightly fashion, beating the Italian Maria Elena Camerin 6-1 6-3 in the third round.

She started well in the quarter-finals, too, building a 3-2 lead with a break.

A rain delay changed all that, with Jankovic returning with a run of five straight games to win the first set and go a break ahead in the second.

Henin steadied herself by breaking back and the two players continued to trade unforced errors and breaks of serve until they were called off.

Kuznetsova is likely to be a tough opponent whoever she is up against, given how strong she looked in beating Petrova.

"She's very tough to play against in heavy conditions like this," Petrova said of Kuznetsova. "In this sort of form she could even win the tournament."
Henin, Mauresmo Advance At German Open
---
(AP) Top-ranked Justine Henin and Amelie Mauresmo advanced to the third round of the rain-soaked German Open on Wednesday.

Henin defeated German wild card Tatjana Malek 6-1, 6-3, and Mauresmo played her first match since an appendectomy operation in March, eliminating China's Yan Zi 6-3, 6-3.

Henin stayed on track for a fourth title at this clay-court warmup for the French Open. She won the French in 2003, '05 and '06.

"It gives me a lot of confidence when I win here, especially since I like to take a rest before the French Open," Henin said.

Mauresmo, ranked No. 3, worked to get the kinks out of her game.

"She had 10 break chances against me in the first set, but I won the key points," Mauresmo said. "I wasn't frustrated _ I knew that I wasn't able to play completely the way I wanted yet."

Malek said she was rattled facing Henin.

"I had no idea she played that fast," Malek said. "I was too nervous. I'd never seen her before except on television."

Defending champion Nadia Petrova, third-seeded Svetlana Kuznetsova, No. 4 Martina Hingis, No. 5 Jelena Jankovic and No. 12 Ana Ivanovic also advanced on a day when several players had to finish rain-delayed matches before playing a second match.

The seventh-seeded Petrova, who beat Henin in last year's final, topped Severine Bremond 6-4, 6-2 and Kuznetsova beat Sybille Bammer, 6-1, 7-5.

Hingis, the 1999 champion, edged Kateryna Bondarenko 7-5, 7-6 (7) on her return to the tour after six weeks out with tendinitis. Jankovic ousted Anabel Medina Garrigues, 6-3, 2-6, 7-5 and Ivanovic beat Elena Likhovtseva 6-3, 6-2.

"I didn't want it to go three sets," Hingis said. "I'm not 100 percent ready to come back, but I don't want to wait any longer."

Patty Schnyder, seeded 15th, beat Roberta Vinci and then routed Virginia Ruano Pascual 6-0, 6-1. Alona Bondarenko beat No. 6 Tathiana Garbin 6-4, 6-2; Zuzana Ondraskova ousted No. 11 Daniela Hantuchova 6-4, 6-2; and Martina Mueller eliminated No. 13 Shahar Peer 6-2, 7-6 (2).

Henin supports Clijsters decision
WORLD No.1 Justine Henin said overnight that fellow Belgian Kim Clijsters's decision to retire was the right one and praised her 23-year-old former world No.1 for her contribution to tennis.

Clijsters had planned to retire at the end of 2007 after playing a handful of tournaments, but brought her decision forward to Sunday, saying "the fire had died out".

Henin, who became the first player to claim three WTA Tour titles this season - and her first on clay when she beat Alona Bondarenko 6-1 6-3 in the delayed Warsaw Cup final yesterday - was full of praise for Clijsters.

"When I heard Kim planned to play only certain tournaments this year, I thought she would find it hard, because you have to be 100 percent focused on your game, so I think she made the right decision to bow out now," Henin told a press conference at the rain-affected second day of Berlin's WTA tournament.

"It was a bit of a surprise that she took the decision now, but it is a decision everyone should respect. Belgian and world tennis is losing a great champion for sure.

"We should never forget what Kim Clijsters has done for tennis.

"We virtually grew up together and played a lot of tournaments together, we have lots of respect for each other, but we were rivals.

"It was a good story for Belgian tennis, because we were so different in our styles.

"I wish her all the best for her new life after tennis, it is going to be a big change for sure."

Clijsters will marry Belgium-based American basketball player Brian Lynch in July, while Henin is focuses on winning again on clay in Berlin before she begins the defence of her French Open title later this month.

"Playing here is what I need before the French Open, it is another chance to get used to playing on clay again," Henin said.

"I am comfortable playing on clay now, but you do have to adjust your game slightly and get used to the difference.

"Not a lot of girls like playing on clay, but I enjoy it."

Henin was given a first-round bye in Berlin.