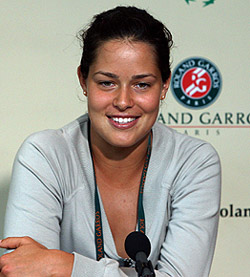 Ivanovic shining brightly as the new queen of hearts
Look out, megastar ascending. Expect widespread fuss, general palaver and periodic showers of nonsense moving in from the west. Certainly the uniformed security guard entrusted with guaranteeing Ana Ivanovic a safe passage to the changing-rooms when rain briefly interrupted her first-round match yesterday did not appear to have underestimated the importance of his task, foraging ahead through the startled public and bellowing: "Stand aside, player coming through."

This reporter has witnessed nothing like it since he covered a music awards ceremony and was shoved hard up against the wall of a broad corridor to prevent him from contaminating a passing Barbra Streisand.

But such is the cone of golden light beginning to glow around the 6ft 1in 19-year-old Serb with the big serve and the film-star face. Is this, seasoned observers are seriously asking themselves – with that firm grasp of the important issues for which seasoned observers can be relied upon – the most beautiful woman to have played tennis?

Chris Bradnam, of Eurosport, has joined the debate, offering the helpful opinion "she's like the Catherine Zeta-Jones of the tennis world" – a tribute emblazoned across the homepage of Ivanovic's spectacularly animated website, where you will also learn that her serve crushes the ball down to 3.2cm in diameter and see photographs of her halfway up a mountain in a bedsheet. (The website is "already the most popular of all female tennis players", according to the website itself.)

In the spirit of equality that we are all celebrating at this, the first equal-pay Wimbledon, it is only fair to wonder who may warrant the title of the most beautiful man ever to have played tennis and also, by extension, who might aptly be described as "the Michael Douglas of the tennis world". Not sure about the former, but Jonas Björkman would have to be a contender for the latter, if only on age grounds.

Still, there is, reassuringly, in the case of Ivanovic, some serious tennis to go with this show-business and, behind it, the shape of a plausibly high-flying career, rapidly gathering momentum. She has risen to No 6 in the world despite the potential liability of a superstition that insists she never steps on the court's white lines. And she was runner-up at the French Open this year, defeating Svetlana Kuznetsova and Maria Sharapova along the way, before losing to Justine Henin in the final.

For these efforts she was awarded an official ceremony and a balcony-based waving opportunity in Belgrade – an inspiring memory to bring to Wimbledon, where she was a third-round faller in her first year and a fourth-round faller in her second.

Yesterday, she stepped fairly easily past Melinda Czink, of Hungary, 6-0, 7-6 – although not as easily as she had suggested she would during that first-set wipeout, a phase of the match in which Czink looked so unsure of her range that she seemed certain to lose any rally of more than three shots.

A Wimbledon crowd hates to see a player go gameless, even against the new Catherine Zeta-Jones, and there was an effort to rouse the 24-year-old through handclapping alone – but to no avail.

Czink abruptly switched on for the second set, immediately breaking serve. It seemed to shock Ivanovic, who, after seeing little come back from her opponent, suddenly found that she was having everything bar Czink's kitchen thrown at her. Ivanovic later conceded that the rain break at 1-2 in the second set helped her, giving her time to go away and come back more aggressive. Within two points of the restart, she had cancelled Czink's advantage and spent the rest of the set usefully softening her up before the kill in the tie-break.

By then, Ivanovic had also shown some of the tough stuff that sits just below the surface of her impeccable poise. She had twice queried line calls with a patient smile, but, on the end of a third debatable judgment, there was a flash of something steelier, a burst of guttural Serbian and a moment spent with head bowed against the court's canvas backdrop. Thus collected, she banged down an ace – a condensed essay in channelling the negative into the positive.

Afterwards, the ascending star was endearingly cheerful about herself, coming across as someone relatively unburdened by the fuss, who has not yet tired of rooms full of middle-aged journalists, unedifyingly reduced to treacle, asking her whether it is really true that she received no Valentine cards this year. She also displayed an almost, but not quite, perfect grasp of the required post-match vernacular. "On the end of the day . . ." she began, a couple of times. A proper tennis player, then, reassuringly, on the end of the day.

[an error occurred while processing this directive]
Ivanovic looks for silver lining
PARIS – Ana Ivanovic's shaky nerves left her frustrated and angry and unable to keep up with Justine Henin in the French Open final.
"I guess I can use this as experience," said the 19-year-old Ivanovic, a first-time Grand Slam finalist. "And next time I'll be in that situation, I will probably know how to deal with it better."
Her ball toss became erratic, and she hit a serve 10 feet long, prompting groans from the crowd. She double-faulted to fall behind 3-1, and a flurry of errors followed, with many shots sailing several feet long as she lost eight games in a row.
"I all of a sudden started feeling nervous, and my ball toss was going everywhere," Ivanovic said. "I couldn't really control it. So I start to think more about that instead of my game. ... I was a little bit angry with myself, because I knew I could perform better. It was frustrating for me to see that happening, because I was expecting a good match, and tough match, and I was really hoping it could be much closer."
The match lasted only 65 minutes. Ivanovic committed 26 unforced errors, twice Henin's total, and double-faulted five times.
Ivanovic had the consolation of becoming the first player to represent Serbia in a major final. She defeated No. 3 Svetlana Kuznetsova in the quarterfinals and No. 2 Maria Sharapova in the semifinals.
"I had an amazing two weeks here, and I played some really good tennis," Ivanovic said. "I beat a few top players, so that gave me a lot of confidence."
DOUBLE TROUBLE: Mark Knowles and Daniel Nestor finally won the French Open men's doubles title, and now they need a win at Wimbledon to complete a career Grand Slam.
The No. 6-seeded Knowles and Nestor beat No. 9 Lukas Dlouhy and Pavel Vizner 2-6, 6-3, 6-4 Saturday.
Runners-up at Roland Garros in 2002, Knowles and Nestor added a third major to their titles from the 2002 Australian Open and 2004 U.S. Open.
"Our whole career we've strived to win the French Open, Wimbledon – all the Grand Slams," Nestor said. "We've got three out of four, and there's no reason why we can't get four out of four at Wimbledon. We're playing great."
Knowles collapsed to the court on his back following match point and rose covered in clay to hug Nestor.
The 35-year-old Knowles, from the Bahamas, has won 45 doubles titles in his career. The 34-year-old Nestor, who is Canadian, has 47.
A U.S. WIN: The United States averted a shutout at the French Open thanks to a familiar name: John McEnroe.
He and Anders Jarryd of Sweden won the over-45 doubles title Saturday by beating Peter McNamara of Australia and Victor Pecci of Paraguay, 6-1, 6-3.
The other remaining U.S. players competing at Roland Garros – both in junior doubles – lost in finals.
No. 2-seeded Kellen Damico of the United States and Jonathan Eysseric of France were beaten on the boys' side by unseeded Thomas Fabbiano of Italy and Andrei Karatchenia of Belarus, 6-4, 6-0.
Unseeded Alexa Glatch of the United States and Sorana Cirstea of Romania lost in the girls' final to No. 3 Ksenia Milevskaya of Belarus and Urszula Radwanska of Poland 6-1, 6-4.
LONDON BEATS PARIS: Still seeking his first French Open title, Roger Federer prefers the atmosphere at Wimbledon to Roland Garros.
"Here, sometimes, the problem is that the VIPs only come for one or two matches a day," Federer said Saturday. "Center court in Wimbledon is always full."
The Philippe Chatrier center court at Roland Garros was only half full when Federer's semifinal match began Friday.
"That's the problem, because the VIPs take all the seats around the court." Federer said. "I'm not saying here is not good, but you have to hope the VIPs come as well, or the sponsors."
JUSTINE ON TOP: French Open champion Justine Henin will remain No. 1 in next week's WTA Tour rankings, a position she has held for 68 weeks over four different stints.
On Saturday, Henin won her third consecutive French Open title, her fourth overall and her sixth Grand Slam title by beating Ana Ivanovic 6-1, 6-2.
Maria Sharapova, who lost to Ivanovic in the semifinals, will remain No. 2 next week. Jelena Jankovic, beaten by Henin in the semifinals, will climb to No. 3 – the highest ranking ever for a Serb.
Ivanovic climbs one spot to No. 6.
"I have ambitions to win Grand Slams and reach No. 1," the 19-year-old Serb said.
Ivanovic learns the hard way
When Ana Ivanovic was growing up in Belgrade, she learnt to play tennis on a court marked out on the bottom of an emptied swimming pool. And yet she will tomorrow appear in her first grand slam final on one of the sport's biggest stages, Court Philippe Chatrier, as she takes on defending champion Justine Henin for the Roland Garros title.
Serb and jolly: Ana Ivanovic celebrates her semi-final victory
The smiling, sunny Serbian certainly did not require any metaphorical armbands or flippers yesterday as the 19-year-old gave the most assured performance of her career when she annihilated Maria Sharapova, the world No 2 from Russia, 6-2, 6-1. But Jelena Jankovic was unable to join her for an all-Serbian final when she was stopped 6-2, 6-2 by Belgian Henin, who is attempting to become the first woman since Monica Seles from 1990-2 to win three French Open titles in a row, and also to score her fourth overall.

Until this fortnight, Ivanovic had only reached only one quarter-final at the slams, and it had been supposed by some commentators that she had not quite developed yet into a genuine contender. Would she panic against Sharapova, the ferociously competitive Siberian who had been on the record here to say that she could not be "both a tennis player and Mother Teresa"? Not a bit of it. Ivanovic, the world No 7, kept her nerve in glorious style, striking the ball hard and deep throughout as she out-Sharapova'd Sharapova.

It has all come together for Ivanovic at Roland Garros, and there have been plenty of Parisians wishing her well, as she is about as unaffected, sweet and demure a tennis player as you will find. She also the looks to keep her management team busy with off-court offers.

Quirkily, it was Seles, also born in the Serbian part of the former Yugoslavia, who inspired Ivanovic to take an interest in tennis. The story goes that Ivanovic, then aged just five, was watching Seles competing on television and, during a commercial break, an advertisement came on for a local tennis club. Ivanovic remembered the number off by heart, and when her mother returned to the room, she pleaded to be allowed to visit the club.
Ivanovic triumphs at German Open
Ana Ivanovic secured the third title of her career as she fought back to beat Svetlana Kuznetsova in the final of the German Open in Berlin on Sunday.

The 19-year-old Serbian beat third seed Kuznetsova of Russia 3-6 6-4 7-6 (7-4).

Kuznetsova had earlier beaten world number one Justine Henin in a rain-interrupted semi-final.

"I cannot say I was very fresh," said Kuznetsova. "The third set was tough. The final was a minus, but there were more pluses."

Ivanovic overcame a foot injury and had her foot taped in the second set.

"It was so painful in the third set that I went for a lot quickly, trying to hit winners fast," said Ivanovic.
| | |
| --- | --- |
| | It was very dangerous actually and everyone was scared they were going to get injured |
"But I'm just amazed to win. I didn't expect this. I just want to enjoy the moment."

The teenager will be in the top 10 on Monday when the new rankings are released.

"That has been my goal for some time now so I am very happy," Ivanovic said. "I now have more expectations for the French Open, but I don't want to put pressure on myself."

The tournament was repeatedly disrupted by bad weather and Henin in particular suffered - she was on court for the fifth time in three days on Sunday.

Play was suspended on Saturday with Kuznetsova 3-2 up in the final set and she completed a 6-4 5-7 6-4 win.

On Saturday evening Kuznetsova had failed to serve out the match at 5-3 in the second set, but on Sunday morning's resumption Henin's seventh double fault of the match gifted Kuznetsova a match point in game nine.

A wayward backhand followed to see the Belgian's hopes of a fourth Berlin title dashed.

"This was the toughest week I ever had - it's been bizarre," said Henin. "It was very hard mentally, physically. Today I was missing some energy, some legs on the court."

Henin said she was pleased to come through a week of wind and rain unscathed.

"It was very dangerous actually and everyone was scared they were going to get injured," she said. "I had a lot of difficult moments but I just kept fighting."

The Belgian will now take two weeks off to rest and train ahead of her attempt to win a fourth French Open title in Paris at the end of the month.

"I'm glad because I had a good preparation here and a lot of matches on the clay and that's good for the French," she said.